Personal Sales Dynamics is geared toward the business owner and self-employed professional who may not come from a sales or sales management background but bears the primary responsibility for selling. You will learn the principles, practices, presentations and processes that will multiply your sales results.

The quality of your business is dependent on the quality and quantity of your business relationships. Learn what common mistakes may be killing your business relationships, even before they start, and the principles and practices that will systematically attract, convert, and retain more of your perfect clients year after year.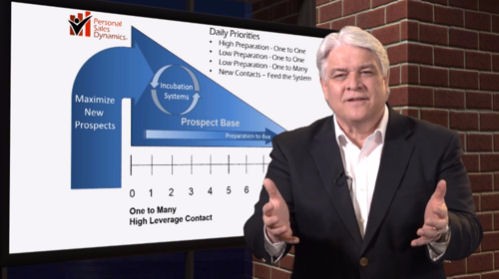 Clay will share with you his unique principles and practices that will empower you to:

Build Lifetime Profitable Relationships
Take Skin-Deep Networking Clear to the Bone
Constantly Expand Repeat & Referral Business
Explore, Define and Crystalize Your Unique Value
ATTRACT Prospective Clients Who WANT to Meet
ENGAGE Them to Learn Their REAL Motivators
CONVERT Them to PAYING Clients Quicker, Easier
RETAIN Them as Repeat Clients and Advocates
Avoid Conditioned Responses That Kill Sales
Trigger Conditioned Responses That Build Commitment
Unleash the POWER of Asking the Right Questions
Prevent Most Objections and Sales-Killers
Turn Sales Resistance Into Buying Commitment
Leverage Strategic Partnering Opportunities
Implement Sales Processes and Systems to Multiply Sales
Measure and Manage Sales Performance
AND MUCH MORE...
PLUS WEEKLY VIDEO CONFERENCES TO APPLY WHAT YOU'VE LEARNED!

Most importantly your selling will become more personal, more powerful, in attracting, engaging, converting and retaining your perfect clients by exponentially expanding your prosperity network of relationships to build a constant flow of repeat and referral business.